First Look: 'Hats: An Anthology by Stephen Jones' Lands in New York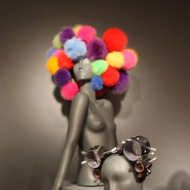 Watch the slideshow
Hats and hatmakers are enjoying a surge in popularity these days, to the delight of celebrated British milliner Stephen Jones. « It's so funny how the media, especially in America, has suddenly re-discovered hats! » he remarked bemusedly. « With Kate Middleton and the royal wedding and everything, people are realizing again what fun they are. » Not that he's complaining, of course; it's perfect timing for his fashion exhibit, « Hats: An Anthology by Stephen Jones, » which opens at the Bard Graduate Center on the Upper West Side on Thursday, September 15. The show was a smash hit during its run at London's Victoria & Albert Museum, whose massive fashion archives make up about a third of the exhibit's 250-plus pieces (Jones humbly admitted that his own eclectic pieces comprise another third, while the rest are made of up of items on loan, including several from Vogue editor Hamish Bowles's extensive personal collection).
Special additions have been made to the show's American version, including Babe Ruth's baseball cap, Estée Lauder's turban, President Franklin Roosevelt's top hat, and the Halston bunny ears worn by Candice Bergen to Truman Capote's Black and White Ball. You can also see Darth Vader's original helmet from 1977, as well as historic pieces by Christian Dior, Elsa Schiaparelli, and a piece made by Bill Cunningham during his brief millinery career. What's more, there's a special section of contemporary New York milliners' pieces, including Ellen Christine, Albertus Swanepoel, and Eugenia Kim.
« I think fashion historians will one day look back on this current time as the brief period when people didn't wear hats, » theorizes Jones cheerfully, who carried his own hat, a colorfully printed newsboy cap, under his arm while we toured the exhibit. He points out that humans have worn some sort of head-covering throughout human history. « That people stopped for the last 50 years or so, I think, is just a blip in the larger history of headwear, » he adds. Indeed, he says hat sales are on the rise these days, particularly for more decorative headpieces like headbands or hair clips embellished with flowers or feathers. He attributes this partially to their more accessible price points. « Hats used to be a department-store purchase. You went to Saks and spent a lot money. Now you can get them at whatever price you want, especially little barrettes, and I think that's great. » Most of the exhibit's pieces are considerably more elaborate, but every hat fantasy has to start somewhere.